WELCOME TO LANGFORD KITCHENS BICESTER
We are an Independent Locally based Kitchen Company, who pride ourselves on providing a first-class customer service.
We have over 35 years of experience and offer a FREE CONSULTATION
We are able to fit and supply a broad range of kitchens, from bespoke kitchens to an off the shelf brand name kitchen. Whatever your budget we will be able to help find you a kitchen to suit you.
To get started on your dream kitchen, contact us for a FREE CONSULTATION and we will be happy to help you plan your kitchen, advising on the installation, appliances and accessories.
We will be with you every step of the way from the Kitchen Design, to Installation, Plumbing, Plastering, Renovation and Tiling. Please take the time to look at our website to see a few of our latest Kitchens we have recently Designed and Installed for our Customers.
You are just one step away from your dream Kitchen, so contact us today and be inspired.
---
A GUIDE ON HOW TO GET STARTED
Buying a new kitchen is a big purchase - Thinking of it as a journey and giving each step all the time and consideration, it needs.
Assess All Your Needs - Before you begin planning your new kitchen, think about how you want to use the space. Who do you cook for and how do you cook it? How much storage do you need? Think about what you don't like in your existing kitchen so you can focus on improving those areas.
Make A Wish List - Consider your kitchen must-haves. Granite worksurfaces, a statement island or lots of cupboards for storage. Or are there specific appliances that will make your life easier.
Be Inspired - How you want your kitchen to look is a very personal choice. Make a note of surfaces, materials or accessories you've seen that work well together.
Consult Our Kitchen Designer - To get the absolute maximum from your space, input from our professional kitchen designer will prove invaluable. Their experience and expertise will offer you plenty of ideas you may not have considered. They have all the up-to-the-minute knowledge of products, fixtures and fittings.
Set Your Budget - Be honest about your budget so that your designer can help you decide where to save and where to invest. It's easy to get giddy with a wealth of shiny appliances, so only invest in things you think you'll genuinely use. And don't forget to include installation fees, as well as the kitchen itself.
Call In The Professionals - It's important to remember that the way your kitchen is installed can make all the difference. A bad fitter can make a kitchen look terrible and you are likely to incur additional costs to correct their mistakes. A good fitter can make even inexpensive units look amazing. All our fitters are skilled tradesmen.
Finishing Touches - Little details, such as handles, can make a big difference and transform a simple white scheme.
---
ESSENTIAL KITCHEN FEATURES
Welcome to our dedicated Kitchen features section, bringing you the latest low-down on Kitchen design, idea's and innovations.
The kitchen island is the ideal of luxury and the making of a sociable kitchen. Not only a great place to perch, dependent on its design it can be used for extra storage and adding bar stools can provide a casual dining area.
Looking for an alternative to an island? A peninsula is attached to a wall, so you only sacrifice access to one side, but it provides many of the same advantages. Peninsula models work especially well in single wall or L-shaped layouts.
Waterfall worktops – a surface that appears to flow over the edge of a worktop, covering the side and reaching the floor and remains a firm trend favourite.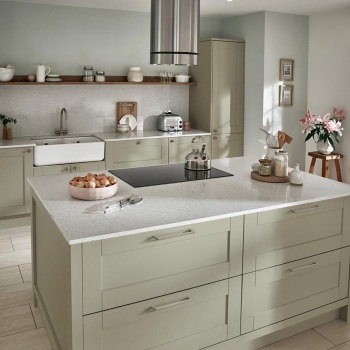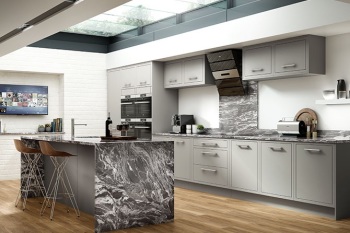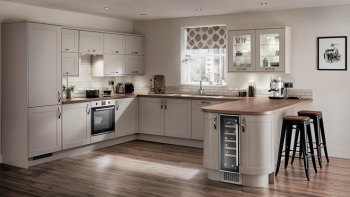 ---
THE BICESTER KITCHEN INNOVATION MUST HAVE .....
THE SPIRAL WINE CELLAR
The increased interest in creating Kitchens with the wow factor has resulted in the modernisation of the traditional wine cellar. The evolutionary glass-topped sunken spiral wine cellar is watertight, cylindrical system sunk into the ground and can keep up to 1,870 bottles in perfect storage conditions - just like a traditional wine cellar.
Designed to store wine at optimum humidity, temperature and darkness and works using the earth's natural attributes and a clever ventilation system.
It can be installed almost anywhere, subject to survey of local conditions and engineers' calculations.
A definite statement piece and focal point for any Kitchen.