CLIENT TESTIMONIALS & CHARITY EVENTS
CLIENT TESTIMONIALS
I just wanted to send you a message to say thank you so very much for all your hard work and patience. My kitchen is now all I wanted it to be and this was made possible by receiving such great advice and the fantastic service you provided.
Your attention to detail was incredible and everything was carried out with such precision and care. It was a pleasure having such a knowledgeable professional doing my kitchen.
Thanks for all your hard work
Regards
Mrs H
---
I am so happy with my kitchen. Any problems we had, was no trouble at all for you and with your attention to detail, you always made sure everything was just perfect.
Thank you for building my dream kitchen and for your help with the window ledge, which was much appreciated.
Best Wishes
Mr & Mrs Y
---
Thanks again for all your hard work and fantastic attention to detail. We are really pleased with the result and won't hesitate to recommend you.
Kind regards
Mr & Mrs R
---
Thanks for everything. As ever a great job.
All The Best
Ms K
---
Just a quick note to thank you for your hard work and dedication in completing our kitchen. From start to finish we have been impressed with your service. You provided the best design and sourced the most suitable doors. The workmen for electrics, plumbing, flooring etc were excellent and you all worked well together ensuring the kitchen came together on time. We have been particularly impressed with your attention to detail. You have been a pleasure to deal with, you are always so polite and friendly. I would have no hesitation in recommending you to others and are very proud to show off our new Langford Kitchen.
Many thanks
Mr & Mrs W
---
I just wanted to say thank you for designing and fitting our new kitchen. It looks fantastic - even better than we hoped.
Your advice in the early stages was essential as it helped us choose a design and layout that works perfectly for us. Throughout the installation you were entirely professional and very flexible.
We are really pleased that we chose a local tradesman rather than one of the big kitchen companies. Your pride in your work and attention to detail really shows through in the finished result.
We wouldn't hesitate to recommend your work to anyone who is considering a new kitchen.
Thanks again.
Mr & Mrs T
---
I write to commend to you, two of your employees who have recently finished fitting my Wickes Kitchen.
I have been greatly impressed with the work of Tim and Alan. Their attention to detail, concern and respect for my property and wishes, and politeness were a credit to them and your company. They have left me with a beautiful kitchen and very fond regards of them both.
Tim particular is a tireless worker who obviously enjoys his work and Alan is a perfectionist. Please pass on my sincere thanks to them both.
Wherever possible I will extol the virtues of their work and the people for whom they work.
Thank you again
Mrs R
---
Thank you again for all your hard work on the kitchen. I couldn't be more thrilled with it.
Ms S
---
It is not often these days that I am able to write with thanks for a job well done. After a very distressing 18 months living in our 'new' house I never thought the day would come when I would be happy to be there. We have now moved back and I feel confident that the experience is going to be very different.
I would like you to thank all the team involved. In particular I would like to thank Tim, who was polite, professional, worked to a very high standard and cared about what he was doing. We feel very lucky to have had these people working in our house, especially after experiencing what the original 'builder' had produced.
I would not hesitate to recommend Langford Kitchens to anyone.
Thank you all very much.
Mr & Mrs P
---
Please accept the enclosed gift as a sign of our appreciation for all the hard work Tim has done to make our kitchen a success.
We know that this has not been an easy build, but no-one could have been more patient, understanding or thoughtful regarding our requirements. The quality of his work has been second-to-none with attention to detail and finish, and you can be genuinely proud of his skills.
He has been a most pleasant and polite person to have in our home and we would welcome him at any time. His qualities in today's world are rare - may they never change.
With our sincere thanks
Mr & Mrs B
---
I cannot thank you enough for the fabulous job you have done on the kitchen.
Many thanks again, I will have no hesitation to recommend you.
Kind Regards
Ms C
---
Many thanks for our wonderful new kitchen. We are absolutely thrilled with the way it has turned out, and really appreciate all your careful work and attention to detail which has made such a difference to the end result.
Best wishes to you and your family
Mr & Mrs D
---
Thank you for doing such a fantastic job with the kitchen. We're delighted with it.
Mr & Mrs K
---
We just wanted to say a 'BIG THANK YOU' for all your hard work, advice and attention to detail. We love the kitchen and can't wait to use it.
Many Thanks
Mr & Mrs V
---
Thanks for a marvellous job and all your help.
Mr & Mrs H
---
Firstly, many thanks for the excellent work carried out. The kitchen is perfect, and we are extremely pleased with the outcome.
Your vision, perfectionism and attention to detail is immaculate and we wouldn't hesitate in recommending you.
Thanks again.
Mr & Mrs D
---
Many thanks for the lovely job you did fitting our kitchen, it's even better than we had hoped for.
Thanks again
Mr and Mrs W
---
Many thanks for all your hard work.
Mr & Mrs R
---
Our kitchen was fitted by Tim Osborne of Langford Kitchens and we are delighted with the result. Tim has an eye for detail and took great care of the kitchen and our house throughout the process.
His communication is excellent, and his advice was helpful and valuable. We have no hesitation in recommending Langford Kitchens to anybody who is looking for a reliable, experienced and competent kitchen fitter.
Mr & Mrs C
---
Langford Kitchens Thank You. Brilliant Job
Mr & Mrs M
---
Thank you very much. Your attention to detail and total professionalism is second to none. I would have no hesitation in recommending you to anyone.
A great big thanks for everything.
Mr B
---
LANGFORD KITCHENS LATEST CHARITY EVENTS
All our events are self-funded, thus ensuring all the charity donations reach the many good causes. We have an amazing time at these events and have really enjoyed meeting the people involved.
Centurion Running - South Down Way (SDW50) and Chiltern Wonderland 50 (CW50) miles ultramarathons
The Events: SDW50 is a point-to-point trail run from Worthing to Eastbourne on the South Down Way. Total climb: 5700ft. CW50 trail run consisting of a single loop through the picturesque countryside & rolling hills of the Chilterns. Total climb: 5600ft.
The Charity: A very much appreciated local Bicester charity who provide a relaxed place for cancer patients to meet, get information and talk to their team. They have continued to find ways to help and support patients both practically and emotionally during the 2020-21 pandemic.
http://www.thehummingbirdcentre.org.uk
---
Oxford Half Marathon for 'Clic Sargent'
The Event: Langford Kitchen prepared for this year's event with a 10k run through London in July. Later in the year we enlisted the support our suppliers in raising money for this year's Charity Clic Sargent. In October we ran through the streets of the city of dreaming spires and the surrounding countryside. We ran the track where Sir Roger Bannister broke the first ever four-minute mile in May 1954. Sir Roger Bannister was in attendance to give his support to all of the runners.
The Charity: This charity chose us again this year after meeting an inspirational family affected by Children's Cancer. Every day 10 children and young people hear the shocking news they have cancer. CLIC Sargent provides clinical, practical and emotional support to help them cope with cancer and get the most out of life.
http://www.clicsargent.org.uk/
http://www.howdens.com/
http:www.benchmarxkitchens.co.uk
---
A 60 Mile Cycle Ride for 'Wings For Life'
The Event: Langford Kitchens again joined forces this year with another local company 'Rapid Engineering' and cycled a 60-mile route around Bicester countryside to raise money for Spinal Research.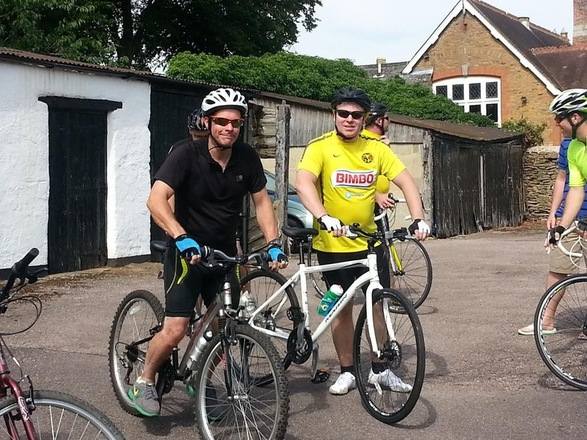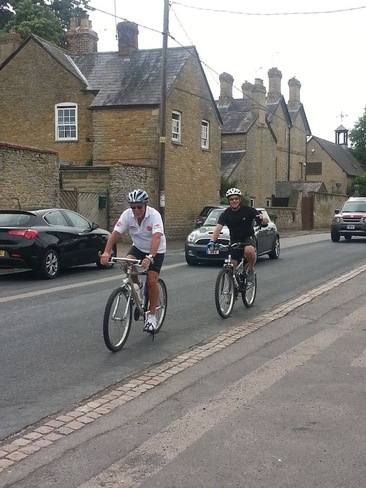 The Charity: By providing targeted financial support, Wings for Life enables the implementation of important research projects focusing on curing paraplegia. Wings for Life also supports revolutionary compensatory treatments, which promise to significantly improve the quality of life of paraplegic patients.
http://www.wingsforlife.com/en-gb/who-we-are/
---
Skydive for Local Charity 'Langford Village School'
The Event: An amazing experience which really took your breath away. The best view of our countryside is definitely 13,000 ft up in the air. We visited the Children in a special Friday assembly, to hand over the £802.20 raised and we answered their questions on our parachute jump. They watched our DVD of the skydive, which did inspire some very good questions from the Children.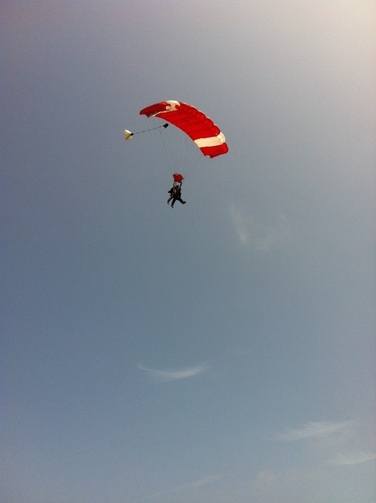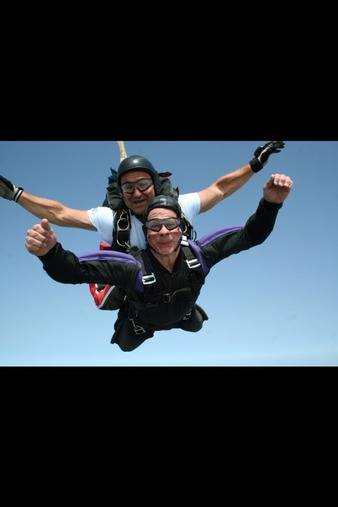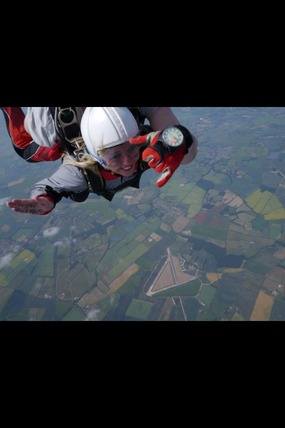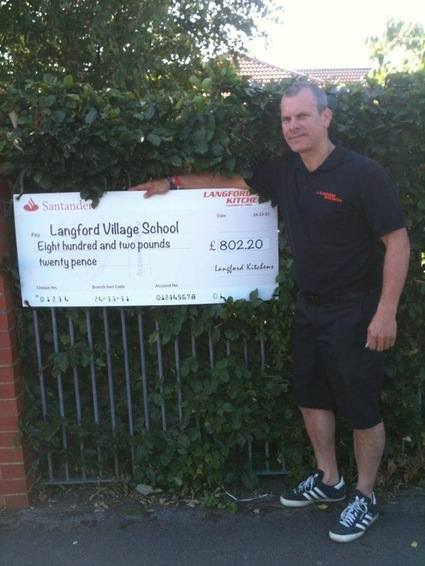 The Charity: Langford Village School are a large primary school on the edge of Bicester, Oxfordshire in the south midlands of the UK. There are about 500 children (full and part-time) at the school, aged 3 to 11, in 16 classes. The school was built in 1996 and extended in 2000. They take a lot of pride in their school. They believe that the staff and children deserve the best environment in which to work and learn.
http://www.langford-village.oxon.sch.uk/html/folvspta.html
---
May Day Fair Teddy Stall for 'Save The Children'
The Event: A very sunny day and a table full of teddies of all shapes and sizes. You bought a raffle ticket and if it ended in a 0 or 5 then you were a winner. It was good to see the children's smiling faces when they won and 95% of the teddies went home with a new owner.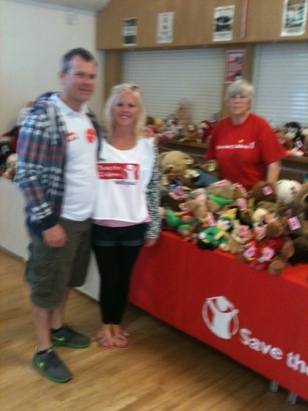 The Charity: Save the Children works in 120 countries. They save children's lives. They fight for their rights. They help them fulfil their potential.
http://www.savethechildren.org.uk/
The Thank-You: Dear Langford Kitchens
On behalf of Save the Children, may I thank you for helping at the recent May Day Fair. Without your support the event would not have been so successful, and we are grateful for your kind assistance.
The total profit so far is excess of £5,000, but there is still some money to come in and a few expenses to pay so I cannot give you the final figure yet. Needless to say, the Branch is delighted with the outcome of the day, and many deserving children will benefit from the profits.
Thank you again for your support.
Regards
Pauline Evans
Branch Secretary
Save the Children
---
Reindeer Dust Christmas for 'The National Autistic Society' & 'SCN Skin Camouflage Network'
The Event: As requested this has become an annual event. A mixture of oats and reindeer dust are put into bags, with a magic poem on the front, for the children to read on Christmas Eve. The idea is for the Children to sprinkle the Reindeer Dust in the garden on Christmas Eve, so it sparkles in the moonlight and helps the reindeer's find them.
The Charity: The National Autistic Society. There are over 500,000 people with autism in the UK - that's 1 in 100. Together with their families, that's over two million people whose lives are touched by autism every single day.
A lifelong development disability affecting how you communicate and interact with other people.
The Thank-You: Dear Langford Kitchens,
Thank you very much for your recent donation of £50.00 raised by your sale of Reindeer Dust at Langford Kitchens. We'd also like to extend our thanks to the owners of Langford Kitchens who kindly matched the money raised. This wonderful donation will help us to continue supporting those affected by autism.
Your generosity enables us to provide vital services for even more people with autism and their families as well as raise much needed awareness within local communities.
50 years ago, we started as a small group of friends who were frustrated at the lack of understanding and help available for us and our children. We decided to act for ourselves, to help transform the lives of everyone affected by autism, and now, 50 years later, our small group has grown into a national society. From good times to challenging times, we're there at every stage, for parents who need advice and support for their children or adults on the spectrum who want to lead the life they choose.
Thanks to the hard work and support of people like you we can continue to do this.
Once again, a BIG thank you from all of us at the National Autistic Society.
With best wishes
Kelly Hains
Supporter Care Manager
The National Autistic Society
The Charity: SCN The Skin Camouflage Network - There are many skin conditions and disorders which manifest themselves in visible marking and discolouration including - for example - birthmarks, vitiligo or rosacea.
Equally, there are many cases where scarring derives from accident or injury - burning, scalding or abrasion; following surgery; and tattooing.
Given the impracticability, or even unavailability of treatment to remove disfigurement permanently, an alternative treatment - skin camouflage - can be employed to cover, conceal and mask it at surface level with the application of specially formulated creams.
http://www.skincamouflagenetwork.org.uk/
The Thank-You: Dear Langford Kitchens,
I am writing to thank you for your donation to Skin Camouflage Network.
We are delighted to receive the donation and we will use it in furthering the work of SCN.
May I on behalf of all our members to again say thank you.
Kind Regards
Carol Crowther
Treasurer
---
Grim 8 Aldershot for 'BLESMA'
The Event: Grim is held over the Army's vehicle testing tracks in December's freezing cold conditions. You know you're in for a treat when they have to break the ice on the lakes for you to run 9 miles through them.
The Charity: BLESMA The Limbless Veterans providing life after amputation and injury - the loss of a limb does not have to mean loss of activity.
The Thank-You: Thank you to you all for working so hard to complete the Grim 8 Challenge and raise a fantastic total of £1,078 for BLEMSA.
Your dedication and hard work have paid off and I hope you are thrilled with all you have accomplished. It certainly sounds like it was an immense challenge. - I'm sure the photos do not do enough justice to how cold it was! Thank you for sending them in, they are now hanging proudly on our "wall of fame" in the office.
The money you have raised will help BLESMA continue our vital work. Your support means we can provide services as our comprehensive rehabilitation programme. With your help we are also able to continue with our first class dedicated welfare services, providing much needed emotional and practical support through counselling and advice.
In these recent and difficult times, we see many new members joining us, some as young as 19 years of age and we will be with them for the long haul. We still support over 400 Members, who were injured in the Second World War, which shows how long the road ahead is for our Members - and it is with your generosity that we are able to be on that long road with them.
Thank you once again on behalf of our men and women, both serving and ex-service whom you have helped support with your gift; we are very grateful.
Best wishes
Sarah Goodard
Senior Fundraising Executive - Community and Events
BLESMA
---
Oxford Half Marathon for 'Help For Heroes' & 'Helen & Douglas House'
The Event: An enjoyable run round Oxford but hindered by an unshakeable chest infection. A little thing like that didn't stop Langford Kitchens in its tracks.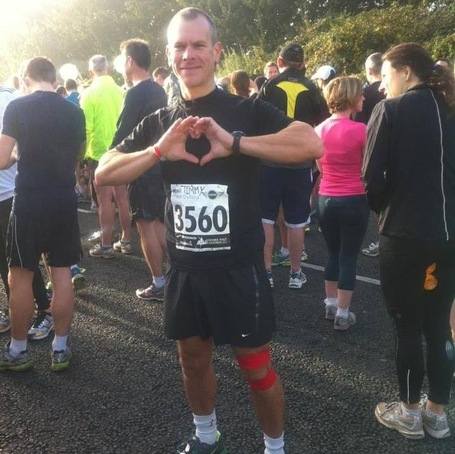 http://www.helpforheroes.org.uk/
The Charity: Help For Heroes give practical, direct support to our current wounded...
They believe that any Serviceman or woman who suffers life changing injuries in the line of duty deserves the very best support for life.
http://www.helenanddouglas.org.uk/
The Charity: By taking part in the Oxford Half Marathon, you are helping to raise thousands of pounds for Helen & Douglas House who provide the very best hospice care for children and young adults. Helen & Douglas House has the time and expertise to care for children and young adults with life-shortening conditions and support their families.
---
Oxford Moonlight Stroll for 'Sobell House Hospice Charity'
The Event: The Moonlight Stroll is a night time sponsored walk through the streets of Oxford. Every year over 1,000 of us take to the streets in aid of the Sobell House Hospice Charity at their annual night-time 9-mile sponsored walk. A beautiful walk and guided around the route by volunteers who were very encouraging all the way round.
http://www.sobellhospicecharity.org.uk/
The Charity: Sobell House Hospice offering care to those facing illness, death and bereavement.
---